Sad Fabric Event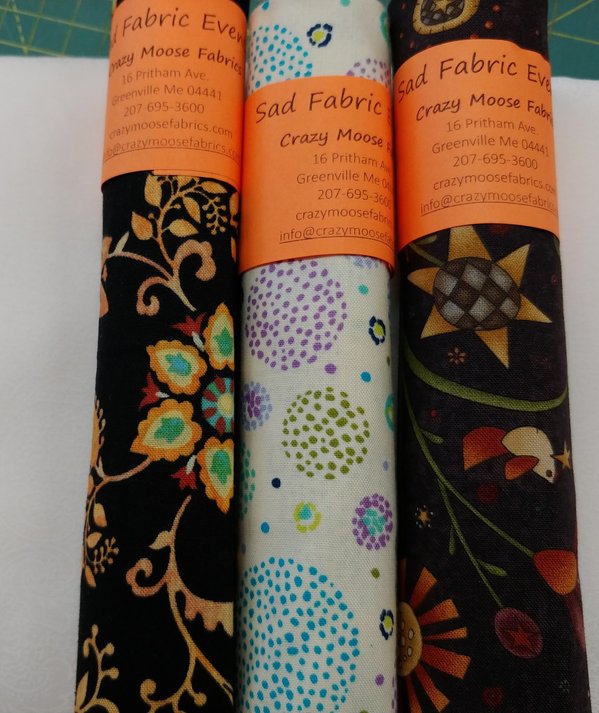 We have a few bolts on the shelf that don't seem to be gathering any attention and are feeling a bit sad. Those on both sides of them are going home with some crafters to be made up into bags, runners, quilt tops, dog collars, clothes, etc. But these three seem to be like the last kid chosen for a team. So let's make them happy and make something fun! Thus, Sad Fabric Event! Is here! And here are the rules.
1. Purchase a half yard of one of these three fabrics during the month of July 2019.
2. Create a product using any pattern but it must include the fabric on the outside or top of the pattern, ie, it can't be the inside lining or the back of a table runner/quilt.
3. Return to the shop with a finished product and receive a coupon for a free half yard of fabric OR send us a photo of your finished product and we can give you a half yard of fabric of your choice (43/44in wide) either in shop or your next online order.
4. A picture of your product will be taken to be entered into an online contest where people can vote on their favorite.
5. Leave your product to be placed in an in-store contest to see who receives the most votes to win.
6. Two fabric prizes will be awarded. The person who receives the most online votes will get one prize while the person who receives the most votes at the shop will receive a prize as well.
Finished Product Rules
1. Make a project of your choice.
2. All items must be completely finished, ie quilted, bound, and labeled.
3. In order to be involved in the challenge vote, items need to be brought back into the shop by October 15 or a photo sent by October 15.
4. Voting will begin on Nov. 1 and run through Nov. 7.
5. Winners will be notified by Nov. 14
I truly love these fabrics as they represent a little of me on different days. The black orange floral just appeals to my interest in African prints with all their color, although this is a little subdued. The ivory with purple, teal and olive green dots to make bigger dots is the playful side of me. Or perhaps reminds me of a childhood dress that was dark navy with large white dots. Somehow I see large dots as being bold yet fun regardless of color. And the deep purple print with primitive drawings of flowers, stars and birds would represent the simple life and simple drawings that I can sometimes draw. I think I was interested in other things when they handed out the ability to draw.
Which one is more you? Won't you take up the challenge to make something beautiful with these? Order a half yard online or pick it one up in the shop and let the creativity flow for others to see.
---
Showing 1 to 4 of 4 (1 Pages)